CHARTER RATES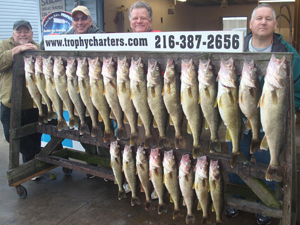 Four people make the PERFECT group size!

SUMMER TROLLING TRIPS
Ashtabula, OH. Everything furnished.
8 hour trip or your limits.
1 to 4 people . . . . . . . . .
$700 for the boat, for the day
5 people . . . . . . . . . . . .
$800 (if a must, prefer only 4)

All Rates Subject To Change

The ultimate personalized Trophy Walleye trip!
All trips are up to 8 hrs. or when limits are met.
We leave the dock between 4:30am and 5:00am.
The earlier we leave, the better! Fishing for Walleye is best at the crack of dawn!
A 100 deposit is required to confirm your reservation. This must be received within 2 weeks after the time of booking.
Deposits will be refunded if given 4 weeks notice or bad weather (Captain's discretion or we will reschedule).
Please be on time & make sure you have your fishing license. They are NOT available at the marina.
Reservations or additional information

Capt. Walt Ermansons
7041 Lake Road S
Andover, OH 44003

Home: 440-293-7249
Mobile: 216-387-2656
trophy@trophycharters.com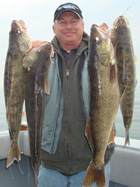 Reservations or additional information

Capt. Walt Ermansons
7041 Lake Road S
Andover, OH 44003

Home: 440-293-7249
Mobile: 216-387-2656
trophy@trophycharters.com