LAKE ERIE WALLEYE FISHING CHARTERS OUT OF ASHTABULA
June through September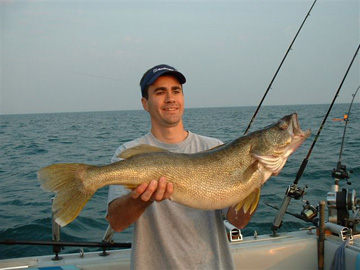 Lake Erie Walleye fishing trips off shore of the ports of Ashtabula, Geneva, and Conneaut may be the best trophy Walleye fishing in the world! Fish in the 5 to 10 pound class are more the rule than the exception.
There is also a lot of Steelhead Trout action mixed in with the Walleye while trolling the deep cool waters off shore of Ashtabula.
And the numbers are fantastic! Limits of these huge Walleyes are common. You haven't experienced fishing excitement until you have fished with Trophy Charters for these huge lunkers!
Make sure to check out our Lake Erie fishing report page for past and present performances aboard The Trophy.
CHARTER RATES
Walleye Trips
1 to 4 people . . . . . . . . .
$700 for the boat, for the day
5 people . . . . . . . . . . . .
$800 (if a must, prefer only 4)

All Rates Subject To Change

The ultimate personalized Trophy Walleye trip!
*Tips and gratuities are GREATLY appreciated!
All trips are up to 8 hrs. or when limits are met.
We leave the dock between 4:30am and 5:00am.
The earlier we leave, the better! Fishing for Walleye is best at the crack of dawn!
*Fishing licenses are NOT available at the marina but are available in town or online. Call for more information if needed. To buy online, click here > Buy Your Fishing License Online.
DIRECTIONS TO MARINA
Ashtabula, Ohio is practically on the Ohio-Pennsylvania border. You can find the boat docked on the Ashtabula river, next to the Lift Bridge.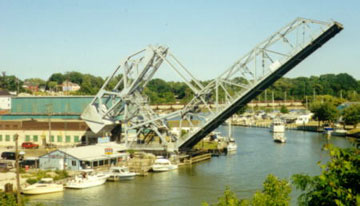 Follow Route 11 North to the stop sign. Turn west (left) onto route 531. Go 3/4 of a mile and turn right into the River Marine parking lot just before the Lift Bridge.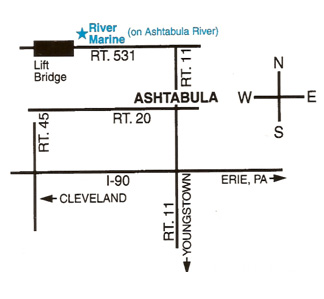 LODGING
NEW! Now you can rent an AWESOME house or cottage for the night within walking distance of the boat for about the same price as a motel!
Trudy's Place
440-964-2996 or 440-812-1219
Moline's Lakeshore Cottage
440-813-8863 or 440-813-8613
Simpler, cheaper (both AAA approved)
Both located on Rt. 20

Cedars Motel

440-992-5406

Ho Hum Motel

800-243-1136

440-969-1136

Nicer, a bit more expensive

All located on the corners of Rt. 45 & I-90 (Exit 223)

Amera Value Inn

440-275-2011

Ramada Inn

440-275-2711

Hampton Inn

440-275-2000

Nice Bed & Breakfast, can accommodate groups of 6
Close to the boat down in the harbor

Michael Cahill Bed & Breakfast
440-964-8449