Buy Your Fishing License Online
Did you catch a qualifying Fish Ohio award fish?

...world leader in marine electronics
www.raymarine.com
The Science Of Fishing
www.savantspoon.com

Tru-Trip Deep Divers
www.bigfishtuff.com

RIGID INDUSTRIES
LED LIGHTING
www.rigidindustries.com

http://www.seadek.com/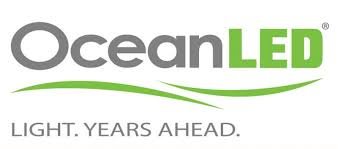 http://www.oceanled.com
LAKE ERIE PERCH FISHING CHARTERS
Ashtabula, OH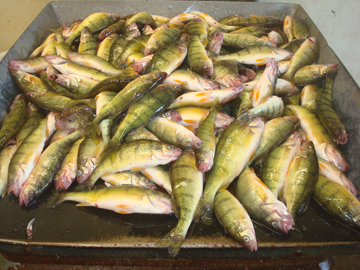 Call For Availability

Spend an exciting, fun-filled day aboard "The Trophy". Starting the last week in September and running until the end of October. Perch charters are a great way to fill the freezer with tasty fillets. Many of the Perch are in the "jumbo" class and limits are generous.
"The Trophy" is a modern 30 ft. Cherokee Sport Fisherman. This boat is very roomy with a 11 ½ ft. beam. Your feet are at water level while the gunnel or the edge of the boat?s side is waist deep and is very well padded. This makes "The Trophy" very comfortable and perfect for perch fishing.
Don't forget to bring your own lunch and maybe some hot coffee! Also bring plenty of warm clothes (even though the weather is usually still pretty nice, you want to make sure you have them with you along with rain gear just in case).
Make sure to check out our Lake Erie fishing report page for Lake Erie Perch fishing reports from past and present performances aboard The Trophy.
FALL SCHEDULE
One

trip per day - 7 hours or your limits

Bait, ice, rods, reels & rigs furnished
CHARTER RATES
(When available. Call for details)
$600

1-4 persons (maximum!)
Everything furnished. 7 hr. trip.

$100

deposit required. Dock departure 7:00 A.M.
---
Reservations or additional information

Capt. Walt Ermansons
7041 Lake Road S
Andover, OH 44003

Home: 440-293-7249
Mobile: 216-387-2656
trophy@trophycharters.com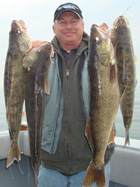 Reservations or additional information

Capt. Walt Ermansons
7041 Lake Road S
Andover, OH 44003

Home: 440-293-7249
Mobile: 216-387-2656
trophy@trophycharters.com